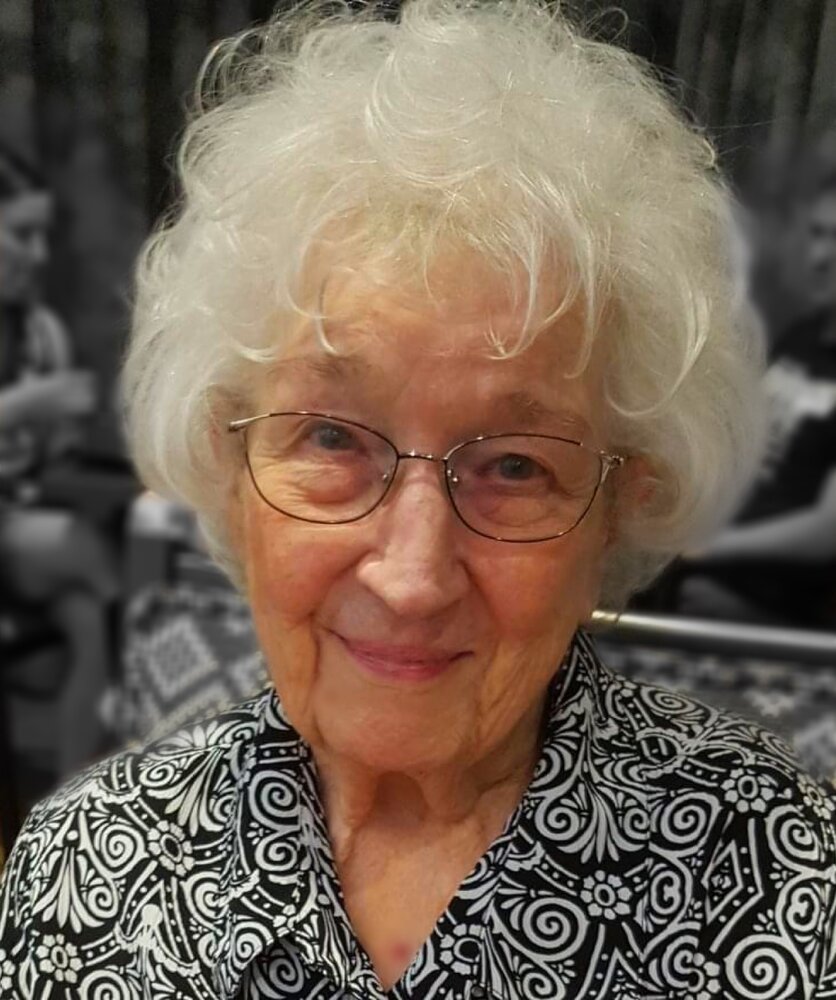 Obituary of Dalphyne Marie Carroll
Please share a memory of Dalphyne to include in a keepsake book for family and friends.
Dalphyne Carroll October 22, 1930 – July 1, 2022 On July 1, 2022, Dalphyne Carroll, a loving wife, mother, grandmother and great-grandmother passed away. She was 91. Dalphyne (Del) Marie Carroll was born to Rose and Emil Krubeck on October 22, 1930 in Kensai, North Dakota. She lived in Jamestown, North Dakota through first grade before moving to Washougal, Washington with her family which included three sisters and a brother. Times were difficult in those days but she said they always had food to eat. She got jobs cleaning houses, babysitting and ironing so she could pay for her school books and supplies. In the fifth grade she was so thrilled to be chosen one of eight majorettes for the junior drum corps, then onto the senior drum corps for a total of eight years. She loved reminiscing about her time as a baton twirler and was always happy to give a demonstration to family and friends years later. She worked in the Washougal Bakery for four years when not working on the high school editor's staff and participating in Pep Club and Glee Club. She always studied hard and was always on the honor roll. The highlight of her life was in her junior year when she met the love of her life, Willard (Sonny) Carroll at the Wagon Wheel Skating Park. They dated on and off after she graduated in 1949, then she went to live in Portland, Oregon and work at a WWII surplus equipment store. When she broke her leg roller skating at the Wagon Wheel, Willard took her to the doctor to get her leg set and they were a couple from that time forward. She moved back home with her parents in Washougal because of her broken leg and then got a job at the Washougal (Pendleton) Woolen Mill. Dalphyne and Willard got married and bought property in Washougal where they would build their home five years later. They had a daughter Sheri (Phares) and a son Steven Carroll while working hard to build their home themselves. No project was too big for Dalphyne including digging a trench if needed. She actually gained the nickname of 'Digger O'Del' among her friends and neighbors. Dalphyne was very creative. She sewed beautiful dresses and clothes in addition to decorating cakes. Her cake decorating continued for a majority of her life until arthritis took over her hands. For eight years, she was room mother at school for both Sheri and Steve at the same time. Her children recall how proud they were at room parties when Dalphyne would come in bringing the most beautifully decorated cupcakes or when she would decorate neighborhood bikes to ride in the Washougal parades. She and Willard loved to decorate their home in blue lights at Christmas and would frequently win awards for the best decorated home. She also was a good cook as she baked the best apple pie in the whole world! She also helped in the nurse's room at school, was PTA secretary, co-leader for Girl Scouts and Sunday school teacher at the church. She also went on cancer drives, school drives for special levys, kindergarten registration helper and was counselor for Sheri's high school rally squad which included playing school songs on the family organ while the girls practiced their routines on the patio. She loved playing the organ and did so beautifully by ear, as she couldn't read music! Dalphyne and Willard had so many wonderful memories with their children. Their first big trip together was to the Seattle World's Fair. They made numerous trips to Lincoln City and Newport, Oregon and took the kids to Yellowstone one summer. After buying their own plane, they flew the family to Disneyland. They were members of the Northwest Antique Flying Club at Evergreen Airport in Vancouver where they made countless friends and worked at all the airshows for several years. They flew to many places and had many fun adventures. Sheri and Steve went on to get married and gave Dalphyne and Willard four grandchildren: Kelsi and Cory Phares from Sheri, and Thomas and Emily Carroll from Steve. After Willard retired, they sold their plane and traded it for a new truck and travel trailer. Willard loved to go camping, however Dalphyne's idea of camping was on asphalt only with no fir needles to track into the trailer. She was a really good sport and knew how much Willard loved to go camping so off she would go with him. There were other special trips with great memories, including a Caribbean cruise and a bus tour in England and Ireland. Dalphyne enjoyed telling the story about her visit to Buckingham Palace, to see the changing of the guards. She kept trying to joke with one of the guards to make him smile, but he was the consummate soldier and able to keep a straight face the whole time! After 32 years in the home they built, they moved to a new home in a retirement community in Vancouver, Washington where they lived for the next 30 years. It was during this time that Dalphyne and Willard's grandchildren gifted them with their great-grandchildren: Coraline and Adeline from Cory, and Peyton and Ella from Tom. As their health failed, they moved to Touchmark Assisted Living Facility in Vancouver where Dalphyne lost the love of her life, Willard, last October 2021. They had 69 wonderful years together. Their pet names for each other were 'Richard' Burton and 'Liz' Taylor. Even in the week before Dalphyne's death, she could be heard shouting 'BINGO' and harmonizing with Touchmark staff before a fall landed her in the hospital. She loved participating in all the activities there. She will be remembered for her love of life, friends and her family. She worked tirelessly at everything she did and taught her children to do the same; a trait they still thank her for. Dalphyne is survived by her daughter, Sheri (Craig) Phares; son, Steven (Teri) Carroll; sister, Marjorie Vaughan; four grandchildren and four great-grandchildren. At the request of family, there will be a private burial service.
Share Your Memory of
Dalphyne
Straub's Funeral Home
325 NE 3rd Avenue
Camas, Washington 98607

Phone: (360) 834-4563
Email: info@straubsfuneralhome.com