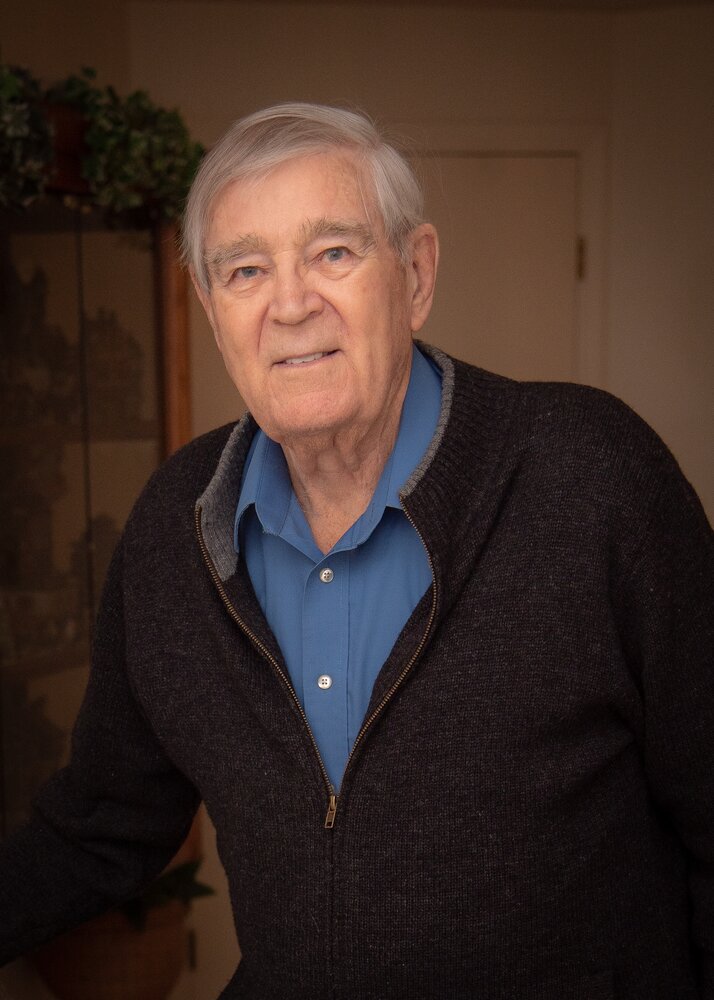 Obituary of Willard Milton Carroll
Please share a memory of Willard to include in a keepsake book for family and friends.
Willard Milton Carroll March 26, 1927 – October 9, 2021 On October 9, 2021, Willard (Sonny) Carroll, a loving husband, father, grandfather and great-grandfather passed away at his home at Touchmark in Vancouver, Washington. He was 94. Willard was born March 26, 1927 in Husum, Washington to Milton and Esther Goff. A few years later, he moved with his mother and new stepdad to Bingen, Washington where his memorable childhood adventures occurred. It was the beginning of the Great Depression, so they moved into a home with no running water or electricity, and with holes in the walls. As he put it, however, he and his sister Marian had thousands of acres of beautiful playground in their backyard and had the advantage of making their own fun, which included gathering wild poppies, bachelor buttons, eating wild strawberries and hickory nuts, and exploring all of that acreage and the mountain. He said they were always fed, so being poor was not an issue. They eventually moved into another home, with more comforts we all take for granted now. Summers were spent visiting between grandparent farms, a pig farm in east Vancouver and a hay farm which included cows, chickens and fruit trees on the exact location of the present-day PeaceHealth Hospital on Mill Plain. The barn was located on the location of the east entrance of the hospital. An important part of Willard's childhood memories was spending a week each summer in the Lincoln City area at the beach, crabbing off the Taft dock by the present-day Mo's with his sister and new baby brother Billy. Even as a young boy, he worked hard to earn extra money. He picked tomatoes (extremely heavy buckets), delivered wood and delivered Oregonian newspapers where he won a trip to the 1939 San Francisco Exposition. In 1940 his family moved to Hood River where he started high school. He worked at the Sprouse Reitz store sweeping floors and worked at one of the orchards picking up pruned limbs and running the tractor for the spray rigs. In 1945 he went into the Navy. Boot camp was in San Diego and then he was sent to Pearl Harbor where he completed his service. He loved Hawaii and spent a lot of time in Waikiki and the windward side of Oahu. He was so excited when he became an official member of the Coconut Busters Club. When he returned home to civilian life in the states, he came back to the Skamania area where his family was logging and to another new baby brother, Jerry. After logging for a couple years, he attended Clark College for one year and then was hired by his uncle Pat Mason to help build and run a skating rink and dance hall on the banks of the Washougal River called The Wagon Wheel. It was a huge success and was attended on weekends by 700-800 people dancing to live country bands – some became very famous including Willie Nelson, who actually got his start at The Wagon Wheel. It was at the Wagon Wheel that Willard met the love of his life, Dalphyne (Del) Marie Krubeck who was to become his wife of almost 69 years. They became quite a pair of experienced and skilled roller skaters until Dalphyne fell and broke her leg. Willard worked for the Standard Oil Company for a couple of years, eventually going into a partnership for a gas station in Portland. He had another opportunity to work in the logging industry, this time for his sister's husband in Estacada. When his first child Sheri arrived in 1953, he wanted to make more money and build his own home so, in March of 1955, he went to work at the Crown Zellerbach paper mill in Camas. When son Steve was born that same year, they made a down payment on a piece of property on "C" Street in Washougal. Willard would work long hours at the paper mill, then come home and work on the house. He did all the work himself, eventually moving his family into their dream home. There wasn't anything that Willard couldn't build or anything Willard couldn't fix. In 1964, Willard was promoted to maintenance supervisor for the tissue end paper machines. This job demanded long hours, days, evenings, and weekends as the responsibility was tremendous. Even though he would come home exhausted, he would often treat the kids to an evening swim at the Camas pool. The job left little time for family vacations, but the vacations they had were wonderful! Their first big trip was to the Seattle World's Fair in 1963. They took a 'camper' vacation to Yellowstone and many trips to Willard's childhood hangouts in Lincoln City. In 1963, Willard found another new love, becoming "hooked" on flying airplanes. His first airplane was a Cessna 172, and in 1968 he bought a Mooney and flew the family to Disneyland. Willard and Dalphyne became good friends with many people at Evergreen Airport's Northwest Antique Airplane Club in Vancouver, where he became President in 1974-1975. The Club held an airshow each year, where both Willard and Dalphyne put in countless hours but loved every minute of it. Along with their airplane friends, they made many trips into California and one to Mexico where they would camp alongside remote airstrips, singing songs thru most of the night. In 1982, Willard retired from Crown Zellerbach. They traded in the Mooney for a truck and trailer and decided to give ground travel a try. For the next five years, Crown Zellerbach continued to recruit Willard and his expertise for various projects around the country, so they camped in between work assignments. His four grandchildren arrived in the 80's and 90's. He and Dalphyne moved to Fairway Village, a retirement community in Vancouver where they lived the next 30 years and where he became the resident computer 'guru'. Over the last eight years, Willard has added great-grandfather to his title four times. Willard and Dalphyne have always been inseparable and loved one another like a Hallmark movie. Their pet names for each other were 'Richard' (Burton) and 'Liz' (Taylor). Willard is survived by his loving wife of almost 69 years, Dalphyne Carroll; daughter, Sheri (Craig) Phares; son, Steven (Teri) Carroll; sister, Marian Parry; brother, Jerry Carroll; four grandchildren and four great-grandchildren. Willard was loved so much and will be missed by so many, especially his family. At Willard's request, there will be no service.
Share Your Memory of
Willard
Straub's Funeral Home
325 NE 3rd Avenue
Camas, Washington 98607

Phone: (360) 834-4563
Email: info@straubsfuneralhome.com