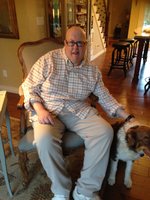 Timothy James Meyer
Tim blessed this earth on August 28th,1957. He was born to Mike and Jeanette Meyer in Vancouver Washington. He joined oldest brother, Mike Jr., sister Diane Meyer Blanchard and four more brothers. Steve, John, Pat and Tim's only younger brother, Joe.
Tim enjoyed bowling with his brother Joe in his younger years. Tim also loved trips to the beach, fishing and shooting guns with his older brothers. Tim was a huge Star Trek fan for many years. He enjoyed collecting and watching his many movies and series shows. Tim always looked forward to every family gathering. He especially enjoyed his birthdays and Christmas season every year and sometimes even dressed up as Santa to hand out presents to his family.
Tim was the shining star in our family and always very special to all of us and anyone he met. We will all feel an ache within our hearts that will never go away. Warp Speed Ahead Faithful Brother, You Will Never Be Forgotten!