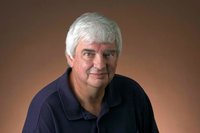 David Allen Jones
David Jones passed away October 18 at his home in Camas at the age of 71. He was born April 7, 1948 in Vancouver, WA.
David lived in Washougal and Camas his entire life and worked as a graphic designer in the electric sign industry. His work ranged from creating simple signs for small businesses to designing and engineering signage for sports arenas and landmark buildings around the country, including the center scoreboard for the Portland Trail Blazers and exterior displays for the CNN Center in Atlanta.
David also loved music and played bass guitar in the local band The Wild Side as well as in church worship groups. With his wife, April, he rescued, adopted, and cared for pet rabbits.
He is survived by his wife of 49 years, April (Hansen); daughter Jennifer Gardner (Ryan) of Corvallis, Ore., and grandsons Chase and Jacoby; sister Wilma Schmidt of Washougal; brother Larry Jones (Donna) of Bouse, Ariz.; and many nieces and nephews.
David loved the Lord Jesus and attended Bethel Community Church in Washougal and Zion Lutheran Church in Camas, where he had served on the church council. Based on his wishes, his family will not be holding a service. Memorial donations can be made to Samaritan's Purse via SamaritansPurse.org.