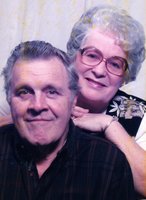 Gwen L Weseman
Gwen L Weseman passed away on February 12, 2019. She was 89 years old. Gwen was born in Camas, Washington to parents Charles Glen Ramsey and Anna May Miller on November 29, 1929 as one of nine children.
Gwen attended local schools growing up. She married her husband Donald Weseman in 1947, and they had two sons together. They were married for 71 years. After their retirement, Donald and Gwen built a home in Klipsan Beach, Washington where they spent many years.
Gwen enjoyed puzzles, reading, and genealogy. She loved spending time with her family, both immediate and extended.
She is preceded in death by her husband, Donald, her parents, and four of her siblings.
Gwen is survived by her children Tom Weseman of Camas, WA, and Steve (Leslie) Weseman of Camas, WA, four siblings, grandchildren Kelly Weseman, Brian Weseman, Shane Weseman, and two great grandchildren.
Following Gwen's wishes, no service will be held. She will be interred at Washougal Memorial Cemetery.