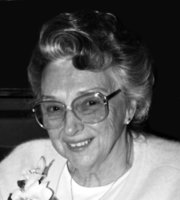 Roberta June "Bobbie" Tidland
Camas resident Roberta June Tidland passed over peacefully at home on Thursday, February 23, 2018. She was 92.
"Bobbie" was born June 7, 1925 in McCleary, WA to Arthur R. and Jessie
E.Wilson. She was the youngest of 3 children. Roberta married C.R. "Bob" Tidland in 1946. She was a mother, homemaker, faith based counselor, historian and civic leader. She used her skills to promote a sense of community and appreciation for local history. Her faith and love of family were foremost in her life.
She was preceded in death by her husband, Robert "Bob" Tidland, brother, Ralph Wilson and nephew Doug Wilson.
Roberta is survived by her older sister Ora Faye Thogerson, son, Dale Tidland (Linda), grandchildren, Jayson Tidland (Tammy), Sadie Tidland (Michael), Max Tidland (Elizabeth); son, Tom Tidland (Sarah), grandchild Elizabeth Loop (Matt); son, Ted Tidland (Lynn), grandchildren, Mandalynn Tidland-Heep (Scott), Elaine Cool (Chris), Scott Smith (Jennifer); six great-grandchildren, one great great grandchild.
Her memorial service will be announced at a later date.
Ms. Tidland will be interred in Camas Cemetery.
Straub's Funeral Home in Camas is in charge of the arrangements. To send condolences or sign the online guest book, visit: www.straubsfuneralhome.com
In lieu of flowers, Memorial donations may be made to: R.J. Tidland Memorial, Camas-Washougal Community Chest, P.O. Box 960, Camas, WA 98607, www. http://camaswashougalcommunitychest.org