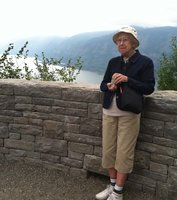 Lorraine Huffman
Dora Lorraine Huffman
February 26, 1922–January 1, 2018
Lorraine (Beaver) Huffman passed away on the first day of the new year at sunrise with a golden super moon still visible over the Willamette River, at Rose Villa's Madrona Grove, in Milwaukie, Oregon.
Lorraine was born in Boise, Idaho. Her family lived a vagabond life for much of her childhood, and then settled in White Salmon, Washington where she graduated from high school. She married Burl Huffman of Klickitat, Washington March 1, 1941. Following some time in Klickitat, they moved to Camas and then Washougal where Lorraine worked as a homemaker. While her daughters were growing up she was actively involved in Girl Scout leadership.
Lorraine loved to bake, walk, sew, paint, knit, bead, read … always busy! She loved to spend time with her family birdwatching, camping, and fishing. Every spring she watched for the first grouse flowers and then the trilliums and Camas lilies.
She is survived by two daughters and their husbands: Sharron Huffman and Harry Wohlsein and Debbie and Mike Scheel. She is also survived by three granddaughters and five great grandchildren.
Friends are invited to attend Lorraine's graveside service at Camas Cemetery on Thursday, January 4, at 1 p.m. A viewing will be available from 9 am to noon on Thursday at Straub's Funeral Home in Camas. In lieu of flowers, donations may be made to hospice.
There will be a celebration of life for friends and family to be held at a later date.