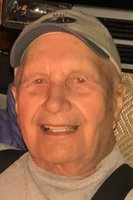 Robert Clarence Etapa
Robert Clarence Edwin Etapa (Bob) went home to be with the Lord on Thursday, March 8th, 2018 at 7:15 pm. He was surrounded by his loving family.
Bob was born January 24, 1930 in Houghton, MI to Henry & Minnie Etapa, in the farm house where his brother Jim still resides. He came from a family of 15 children. He would tell stories of having to milk 8-10 cows every morning before school. I do believe as a young child he even jumped off a barn roof with his mother's good umbrella! He was always ready for the next adventure.
Bob retired from Camas Papermill in 1993 after 40 years of employment. He was also a retiree of the Clark County Fire District 1 as a volunteer, after 25 years of service.
Bob was married and had three children of his own; Robert "Keith" Etapa (Lori), Michael Etapa and Shelly Morris (precedes him in death). In 1989, Bob married the love of his life, Darlene Davis (precedes him in death). She had two girls; Elisa Boyle (Mike) and Kim Poulson (Kelly). He truly enjoyed spending time with his kids, grandchildren and great grandchildren. He will be greatly missed, but he is resting at home with the Lord and his love.
Memorial services will be held at St. Matthews Lutheran Church on Saturday, April 21, 2018 at 2:30 pm. In lieu of flowers, donations can be made to the church in his honor.