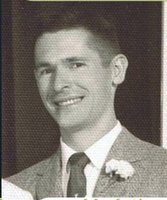 Delmer Dale Hinrichs
Delmer D. Hinrichs, a former longtime resident of Washougal, Washington, passed away February 5, 2018 in hospice care in Vancouver, Washington at the age of 91. He was born December 23, 1926 in Hood River, Oregon. He was a graduate of Hood River High School and Oregon State where he received his Bachelor of Science degree in Chemistry. He also served in the U.S. Army Signal Corps.
Delmer married Memya L. Thoren on September 8, 1956 at the First Unitarian Church of Portland. He worked as a research chemist for Crown Zellerbach until his retirement in 1971. Following his retirement from the paper industry, Delmer pursued his interests in computer programming and software development, eventually creating his own company, Hinrichs $oftware. Delmer loved to be behind the wheel, either racing go-carts and boats or taking road trips to explore Alaska, Canada and the Southwest. His other life-long interests included studying space, planetary and lunar exploration missions, analyzing scientific periodicals, watching auto racing of all kinds, and reading science fiction novels.
He is survived by his four children, Brent Hinrichs (Simone Goldfeder) of Portland, Oregon, Tessa Hinrichs of Portland, Oregon, Steffani Dubats (David) of Holmes Beach, Florida, Dina Metz (Carl) of Lakewood, Illinois, and his grandchildren, Tarn Hinrichs, Trevor & Taylor Bjelke, Brian & Skyler Dubats, and Eddie, Lucy & Ernie Metz.
He was preceded in death by his wife of 50 years, Memya, who passed away February 3, 2007, his sister, Shirley Shultz, and his parents, Ralph & Gladys Hinrichs.
A private family memorial was held in accordance with his wishes. Straub's Funeral Home of Camas was in charge of the arrangements.