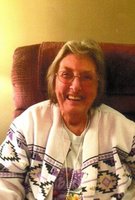 Lillian Ann Sapp
Lillian Ann Sapp (Wenthin) of Vancouver, Washington, passed away on February 2, 2018. She was 80 years old.
She was born January 2, 1938 in West Union Township, Todd County, Minnesota to parents H. A. Wenthin and Wilhelmina Sophie Werre. She graduated from Hudson's Bay High School.
Lillian was a wonderful homemaker, teaching her stepchildren how to cook, garden, can and freeze produce, sew clothing, and do macramé and other crafts. Fishing was a big part of our lives so she taught us how to clean and cook fish. She loved camping with the family and in latter years she enjoyed traveling the United States and into Canada and Mexico with her husband Vern. She was an avid seashell collector using them to create wind chimes and necklaces. She loved bells also and collected them while traveling.
Lillian is survived by her stepchildren, Sue Intrieri of Lewisberry Pa., Tom Sapp of Washougal WA., Diane Ruede of Washougal WA., and Elizabeth Moszeter of Goldendale WA. And by numerous grandchildren and great grandchildren.
Also her brother Walter Wenthin of Vancouver Wa. and sister Maggie Blair of Vancouver WA.
She was preceded in death by her husband Vern and 3 of her stepchildren, Tim Sapp, Pat Sapp and Mike Sapp. Her parents, H. A. Wenthin and Wilhelmina Werre.
Funeral services will be held at Straub's Funeral Home in Camas WA. on March 2nd at 2:00 p.m. Burial will be at Camas Cemetery, where family and friends are welcome to visit at their convenience.