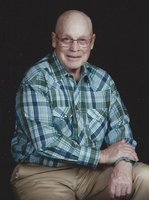 Floyd W Flohr
Floyd W. Flohr, Jr. passed away at his home in Washougal on February 17, 2018 at the age of 89. He was born May 19, 1928 in Colville, WA.
He is survived by his wife, Luella; sons, Bill and Doug; along with 5 grandchildren and 9 great grandchildren.
His life will be celebrated on Thursday, February 22 at 11AM at St. Matthew Lutheran Church in Washougal. Burial will be private at the Sunnyside Cemetery. Straub's Funeral Home & Columbia River Cremation in Camas is in charge of the arrangements. In lieu of flowers, memorial donations can be made to St. Matthew Lutheran Church @ 716 Washougal River Rd, Washougal, WA 98671.