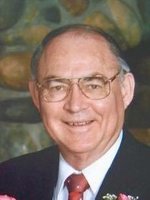 Joseph Leon Udall
Joseph L. "Jack" Udall, 83, long-time attorney in the Columbia Gorge, died of kidney failure on January 21 at his home in Portland. His family was at his side at the time of his death.
Memorial services will be held at 10:00 a.m. on Saturday, January 27 at the Church of Jesus Christ of Latter-day Saints at 6605 SW Garden Home Road, Portland. A memorial service will also be held In White Salmon at 2:00 p.m. on Saturday, February 3. Services will take place at the LDS Chapel in Puckerhuddle. Interment will be at a later date in Arizona.
Joseph Udall was born on April 10, 1934 in Eagar, Arizona. He was the oldest child of Joseph Jackson Udall and EccoReynolds. His grandfather and great-grandfather were also named Joseph Udall. His father went by his middle name of Jack and family and friends fell into the habit of referring to father and son as Jack and Little Jack or Jackie. Eventually, the "little" was dropped and "Jack" was the name that stuck.
Jack spent his childhood and teen years in Eagar, a small town in the White Mountains on the border of Arizona and New Mexico. He also considered nearby Luna, New Mexico, home of his mother's family, to be his home.
As a young boy and teen, he worked on his paternal grandfather's sheep ranch, spending summers camping out on the range with his grandfather and the itinerant Basque sheepherders who were hired seasonally, many of whom had fled to the American West after the Spanish Civil War of the 1930s. His father had no interest in ranching and young Jack was being trained to eventually take over the business.
However, his grandfather died suddenly when Jack was 14 and his father and aunts decided to sell the ranch. Jack's father used his share of the money to purchase a service station in Eagar. Jack worked there after school and in the summers during his high school years.
He graduated from Round Valley High School in Eagar in 1952. For his first two years of college he went attended Eastern Arizona Junior College (referred to as EA and now called Eastern Arizona University) in Thatcher, Arizona. During his time there, he lived with his grandfather's first cousin, Jesse A. Udall, later an Arizona State Supreme Court Chief Justice. He became very close to his "Uncle" Jess and family during this time. His uncle's example inspired him to ultimately pursue a law career.
While at EA he played on the basketball team and participated in the music programs. He played trumpet in the band and sang in the school's traveling choir that performed throughout the Southwest. It was in this choir that he first made passing acquaintance with Frances Claridge.
After two years at EA, he served a three-year mission for the Church of Jesus Christ of Latter-day Saints in Japan. He was there from 1954 to 1957. His sojourn there inspired a life-long love of and interest in Japanese culture and language. He made consistent efforts to keep his Japanese language skills sharp throughout his life. He passed his knowledge and interest on to his children and grandchildren.
While he was in Japan, his parents and younger siblings had settled in Mesa, Arizona, near Phoenix. Jack settled there as well on his return and enrolled in Arizona State University, in Tempe. While attending there, he crossed paths again with Frances Claridge at a dance.
She had finished at EA and gone on to get a teaching degree at Brigham Young University in Provo, Utah. On graduation she moved to Phoenix and was teaching school there. They renewed – and deepened -- their acquaintance in Phoenix. They were married in the Mesa, Arizona LDS temple on February 13, 1959.
Their first child, John Scott, was born in Mesa in 1960. They moved from Phoenix to Tucson where Jack finished his degree in political science and Frances taught in the Tucson school district. Their second child, Caroline, was born in 1961 and Catherine in 1963, both in Mesa.
They decided to take their young family back to the northwest and settled in White Salmon where Frances had grown up and where her parents still resided. In about 1964, he enlisted in the Air Force. He was stationed in San Antonio, Texas as where he underwent training to become a medic. He was given a medical discharge after about 6 months as he suffered from debilitating migraines, something which plagued him off and on throughout his life.
On his return to his family in the Northwest, Jack worked with his father-in-law, A.J. Claridge, in the woods as a logger, at SDS in Bingen, and later at Dwyer's mill in the Portland area. He also worked as an administrator in the Klickitat County poverty programs that were part of the initial "war on poverty" implemented by the Lyndon Johnson administration.
Following his tenure there, the family moved briefly to Portland where their youngest child, Elizabeth Ann, was born in 1969. In 1970, they returned to White Salmon, where Frances returned to teaching at White Salmon (now Whitson) Elementary School. In 1971, Jack enrolled in law school at last at Northwestern School of Law at Lewis and Clark College. He lived in Portland and worked full-time in the mills while attending school part time at night. By going to school mostly year-round, he was able tofinish school in three years this way. On graduation in 1974, he returned to White Salmon and worked first in the mills, and then as an assistant district attorney in Hood River county while preparing for the bar.
He passed the bar in 1975, and opened a practice in White Salmon. Within the first year, he had the opportunity to purchase the already-established practice of Tom Gish. He practiced in White Salmon at that office from 1975 until 1991, when he sold the White Salmon practice and started a new practice in Stevenson. His was a general law practice where he handed, as he put it, "everything from spitting on the sidewalk to murder cases." He did public defense work in both Klickitat and Skamania counties and occasionally served as judge pro tem. He retired from law practice in 1998 and he and Frances, who had retired in 1996, moved from Stevenson to Carson, where they lived until her death in 2011.
In 2011 he married Roberta Frances (Fran) Turner, a longtime friend of the family. He moved to Portland where she resided and lived there until his death.
He was active throughout his life in the LDS church and served in many capacities through the years. He was branch president in White Salmon when the small congregation was meeting in the "Leakee Teepee" dance hall. As branch president, he handled the church's purchase of the land in Puckerhuddle where the White Salmon LDS chapel now stands. Among many other callings, he also served as Bishop's councilor twice and on the Stake high council that administrated the six LDS congregations in the Gorge. After retirement, he and Frances were volunteer workers in the LDS temple in Portland, something he and his second wife, Fran also did until he could no longer continue because of his health.
He was preceded in death by his parents, Jack Udall and EccoUdall and by his wife, Frances Udall. He is survived by his second wife Fran; son and daughter-in-law Scott and Patience Udall of South Jordan, Utah; daughter Caroline Udall of Hood River; daughter and son-in-law Catherine and Tom Turley of Lynnwood, Washington; and daughter and son-in-law Elizabeth and Martyn Thompson, of Carson; brother and sister-in-law Flynn and Katy Udall, of Taylor, Arizona; sister and brother-in-law Connie Rae and Terry Randall of Pine, Arizona, and eleven nieces and nephews. He is also survived by nine grandchildren: Mark, Addison, and Robert Johnson, Charity, Faith, Hope, and Joy Udall, Kellen Turley, and Henry Joseph Udall Thompson; and two great-granddaughters, Alyssa and Katelyn Johnson.
Memorial donations in lieu of flowers can be made in Jack'sname to the LDS Perpetual Education Fund at give.lds.org/pef