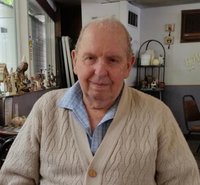 Clyde Ellis Webberley
Clyde E. Webberley, 91, passed away Friday, December 29, 2017 in Camas, Washington only two miles from his place of birth. Clyde was born August 19, 1926 to A.L. and Lola Webberley. He was the second oldest of 8 children and lived his entire life in the Camas area.
Clyde served in the Army in WWII and was stationed in the Philippines. After being discharged, Clyde started a logging company with his cousins, Richard and Donald Webberley, and built houses when not logging. He married his beautiful bride, Mary, in 1953 and they co-owned the Fern Prairie Market with Clyde's sister, Della Howe. After selling the market, Clyde took over the logging business and logged until he retired at 65.
In the early 60's, Clyde was one of the co-founders of Clark County Fire District #9 and was their fire chief for 25 years. One of Clyde's accomplishments as chief was to help bring paramedic services to Camas-Washougal. He and Mary both retired from the fire department in 1988.
Clyde is survived by his: daughter, Linda Anderson; son, Ron Webberley (Bonnie); grandchildren, Ty Webberley (Michelle), Kim Cooper (Brooks), Andrea Crowe (Brandon), and Wendy Balam (Tucker); 14 great-grandchildren; sister, Della Howe; brothers, Leonard, Marvin, Jim, and Jerry Webberley. Clyde was preceded in death by his parents and two siblings, Olivia Herford and Floyd Webberley; and his wife, Mary.
Funeral services will be held at 10:00 am on Wednesday, January 3, 2017 at Straub's Funeral Home. A private interment will follow. In lieu of flowers, memorials may be made to a charity of your choice.