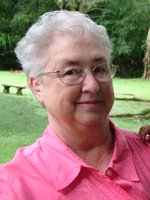 Margaret Cecelia Holland
Margaret Cecelia Holland died in her Washougal home on Saturday, Nov. 25, 2017. She was 75. Margaret was born in Hood River, Oregon, on Oct. 31, 1942, to Harry and Ruby Fisher. She moved from Lebanon, Oregon, to Camas in 1981, and then moved to Washougal in 1997.
She was a long-time homemaker, and then started working at the Camas School District in 1982, as the attendance secretary. Margaret retired in 1995, alongside her husband, and the two of them enjoyed traveling to many places around the world. She was especially fond of their trips to Hawaii to see their five grandchildren. Margaret would make 23 annual trips to Reno with the secretaries and loved spending time with "the girls." When she wasn't traveling, Margaret enjoyed crocheting, needlepoint and quilting. She was often working on something, and made many homemade blankets from "Aunt Midge" for the newborns in her family.
Margaret was preceded in death by her daughter, Cynthia Margaret; parents, Harry and Ruby Fisher; brother, Bud Fisher; and sister, Gloria Fisher.
She is survived by her husband of 55 years, Don Holland; sons, David (Sheryl) Holland of Kaneohe, Hawaii, and Robert (Diana) Holland of Kailua, Hawaii; daughter, Susan Holland of Puyallup, Washington; brother, Richard Fisher of Heppner, Oregon; and five grandchildren.
At Margaret's request, there will be no service.