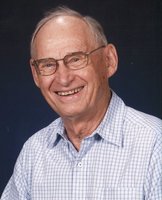 Walter "Bud" Knapp
Walter Burton Knapp, "Bud" to his family and close friends, passed away on November 10, 2017 at the age of 93.
Bud was born in 1923 in Chinook, Montana to William Burton and Margaret May (Ramberg) Knapp. His family moved to the Washougal area in 1927. He attended Washougal High School and soon after graduation in 1941, he joined the Navy, serving in the Pacific on the USS Denver for most of WWII.
In 1946, Bud married his high school sweetheart, Beverly Jean Ziegler. They celebrated 71 years of marriage in June 2017.
Bud went to work for the Bonneville Power Administration in 1956. His work moved the family around the Northwest, but never too far from Washougal. He moved back and took up permanent residence soon after his retirement in 1983.
Bud was an avid gardener, talented storyteller, nature lover, inspiring handyman, and admitted putterer. He was also an attentive grandfather and great-grandfather.
He is survived by his wife Beverly, son Steven, daughter Shelley, grand-daughters Megan LeBaron (Damon) and Katie Bjerkman (Erik), and 4 great-grandchildren Libby and Avery LeBaron, and Blake and Anders Bjerkman.
Private services will be held. Details of a celebration of Bud's life are pending. Memorial donations can be made in Bud's memory to Friends of the Columbia Gorge, www.gorgefriends.org.