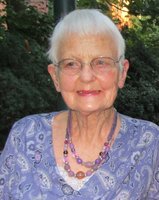 Florence Marie Wall
Florence Wall, 89, passed away peacefully at home from heart failure, with her family at her side. Florence was raised in the Sunnyside District of Washougal and graduated from Washougal High School in 1946. Florence moved to Portland, OR and graduated from Emanuel School of Nursing in 1949. She worked as a Registered Nurse in Portland, and later earned a B.S. in Nursing Education at the University of Oregon Medical School in 1957, prior to returning to her hometown and working in the local Washougal doctor's office for several years.
Florence married another Washougal native, Bernard Wall, on June 27, 1958 and they lived on his family farm in the Mt. Norway District of Washougal until moving into town in 1993. Florence enjoyed her years on the farm alongside Bernard, raising cattle and hay as well as vegetable and flower gardening. She canned and froze much of the produce they grew and loved to cook and bake. She will always be remembered by family, friends and the summertime hay hands for her bountiful meals and cookies.
Florence made sure to be involved in her children's education as both an advocate for them and for positive change in the schools they attended. She volunteered as a tutor at Hathaway Elementary and spent many years volunteering and serving on local boards for the Arc community. She was proud of her pioneer heritage in her community and served on the board of the Camas-Washougal Historical Society and contributed many artifacts and information to the Two Rivers Heritage Museum in Washougal. In recent years, she enjoyed being on the board of the Washougal Community Library and participating in the Sunnyside Women's Club.
As an avid lover of the outdoors some of Florence's favorite times were spent camping, hiking and huckleberry picking in the Pacific NW. She and Bernard shared this love with their children, grandchildren and many friends and other family members over the years. They also traveled extensively, by car, throughout the United States to seek out family history as well as explore national parks and historical sites.
Florence is survived by her son David (Brita) of Seattle, daughter Diane of FL; and grandchildren Karisa, Annika, Bethany, Brianna and Diego. She was preceded in death by her husband Bernard, son Andrew and an infant daughter.
Florence's life will be celebrated on Friday November 3, 2017 at 11:00 am at Straub's Funeral Home, 325 NE 3rd Ave, Camas, WA. In lieu of flowers, Florence requested memorial donations be made to a charity of choice, Ray Hickey Hospice House, or to the Alzheimer's Association in order to one day eliminate this disease which affected many people she loved.