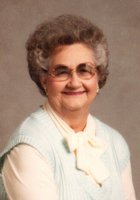 Nina Lee Grazier
Nina L. Grazier passed away peacefully at her residence in Washougal On October 19, 2017 at the age of 95.
She was born September 23, 1922 in Tygh Valley, Oregon to Thomas and Mattie (Calhoun) Ashley. The eighth of nine children, she was raised in the Tygh Valley/Maupin area. Nina was a homemaker and enjoyed gardening, embroidery, crocheting and reading.
Nina is survived by her son, Ken and her son Keith's wife, Claudia; along with seven grandchildren and numerous great-grandchildren and great-great-grandchildren.
She is preceded in death by her parents; her siblings; her husband, Ed; her son, Keith; and her son Ken's wife, Susan.
There will be no public service.