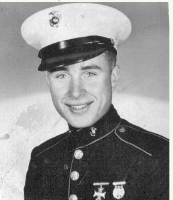 Ralph J. Roberts
Fighting Marine
Loving husband, father, grandfather. He believed in God, country and family.
Ralph passed away suddenly on June 12, 2017 after battling Alzheimer's Disease.
Ralph was retired from the Carpenters Union and was involved throughout the years with the Elks Club, St. Thomas Parish, Camas, Wa and was president of the senior citizen's group that would take buses to various casinos throughout the area; something he and his beloved wife of 35 years, Barbara Jean Roberts, enjoyed very much.
Ralph was an outdoors man and avid fisherman. He loved german shepherds and put three ponds on his property stalked with trout for the grandkids to learn to fish. All of us had the fun of planting trees on the property and then cutting a tree for x-mas; and chopping or stacking wood for winter fireplaces of the family.
Ralph also loved to dance and given the nickname "twinkle toes" at a young age continued with his dancing into his 80's; every Wed he would go dancing at the Elks with his Kamlu Retirement Community friends and family.
Ralph is survived by his ten children, many grandchildren and great grandchildren, nieces and nephews and other family and friends.
He is laid to rest at the Cemetery, Camas, Wa
The family will have a celebration of life at a later date
The family also wishes to express a special thanks to Christina.
Straub's Funeral Home & Columbia River Cremation in Camas was in charge of the arrangements. To send condolences or to sign the online guestbook please visit www.straubsfuneralhome.com.